As a result of my master's project at Kingston School of Art I invented new biomaterials and created a collection of products ranging from the design departments packaging, fashion, and food.
The brand/material SeeTang was designed sustainably with intention to introduce newly invented biomaterials such as bioplastic and seaweed leather. Focused on marine conservation, these products are sourced from the sea to raise awareness about their importance to our climate and planet.
What makes this biomaterial unique is its attributes of being with attributes like being 100% biodegradable, 100% edible, 100% recyclable and 100% sustainable.
The first product I designed with the material SeeTang is an instant dish. The packaging is zero waste and zero plastic. While cooking the dish part of the packaging for sauces and spices is cooked along side the main ingredients as the biomaterial is 100% edible and dissolvable in water. The outer packaging is either recyclable/reusable or can be put in a compost where it will biodegrade just after 6 days.
In addition to the collection, I manufactured bags with bioplastic which was infused with homemade saffron dye. The goal is to raise awareness about the usage of 'vegan leather' in the fashion industry which is mostly plastic.
My main Motivation:
This project started with in-depth research about climate change and its impact on our oceans. Problems like ocean acidification, coral bleaching, Co2 pollution and plastic pollution have been one of the few topics I chose to specialise on.
During my research period, I realised how much the unsustainable material plastic causes harm to our land, water, air and overall health.
It has been mind-boggling to me how us human can live in the present with such backwards unsustainable ways of designing, manufacturing and living.
I built up such disklike to plastic that the only way for me to fight the problem was to create an alternative material that could completely replace its toxic precursor.
The design departments packaging and fashion were to me the most polluted areas with urgent need of change. Especially the new marketing lie of calling plastic "vegan leather" has caused an increase in plastic products manufactured and sold. Unfortunately, many consumers are not aware of what they are buying and what it means for the environment.
In addition, I was inspired to tackle the problem of plastic packaging in form of a completely biodegradable instant dish. During the 2. Lockdown I fell in love with ramen instant dishes however I always felt bad after opening its package which reveals several ingredients individually packaged in plastic. All packaging found inside my instant dish SeeTang is completely dissolvable in water and edible. The outer packaging can either be recycled at home or put in the compost where it will biodegrade after just 6 days.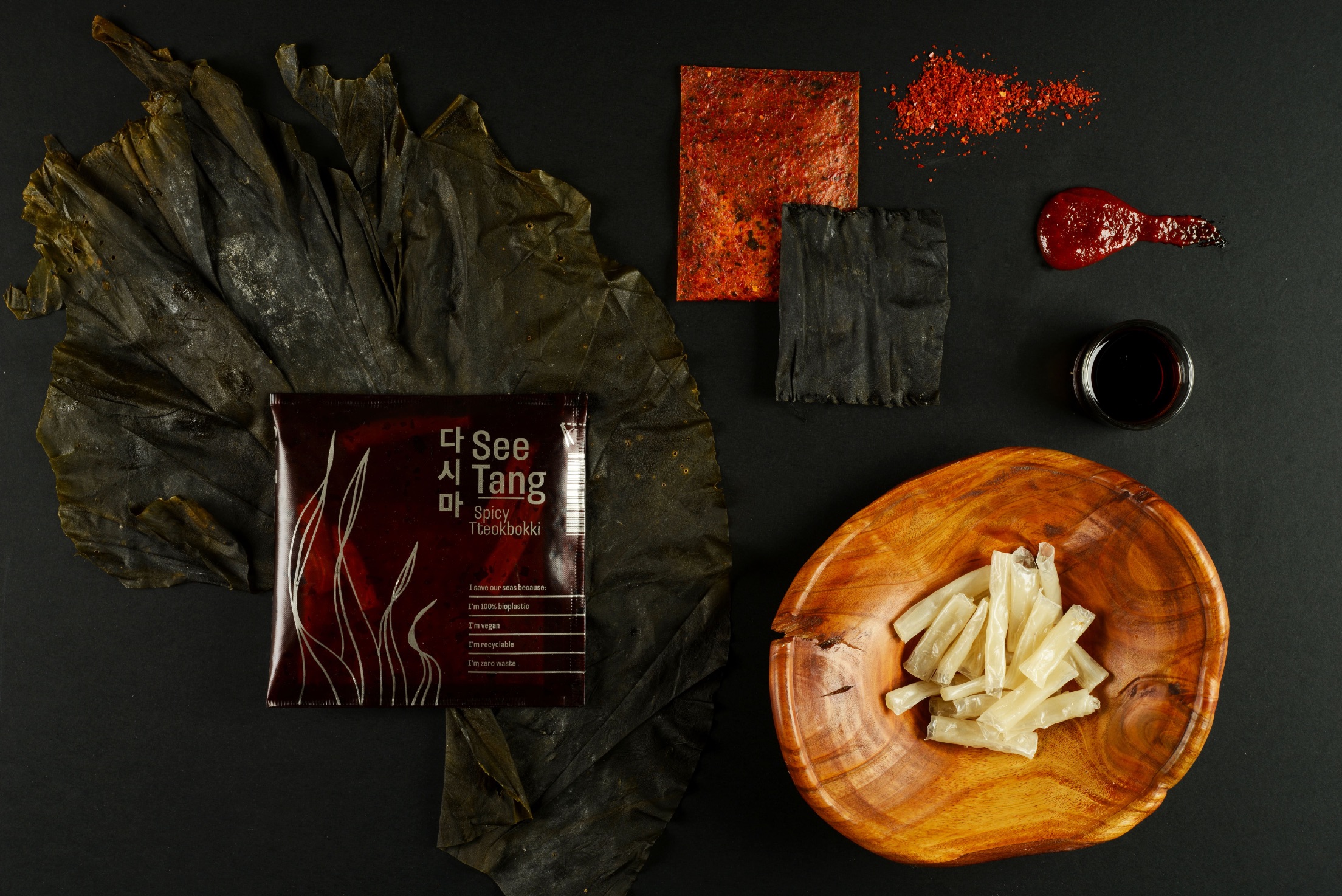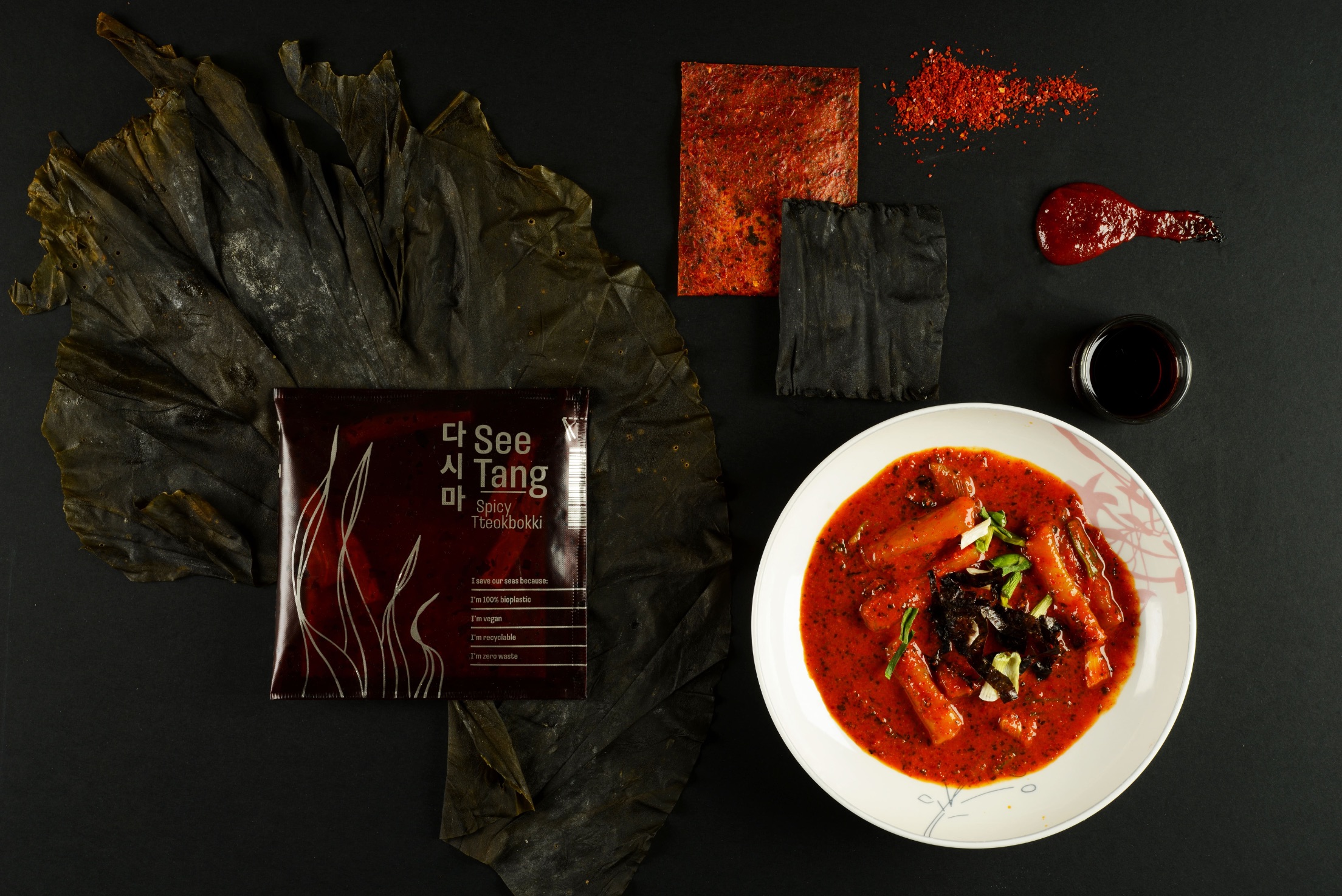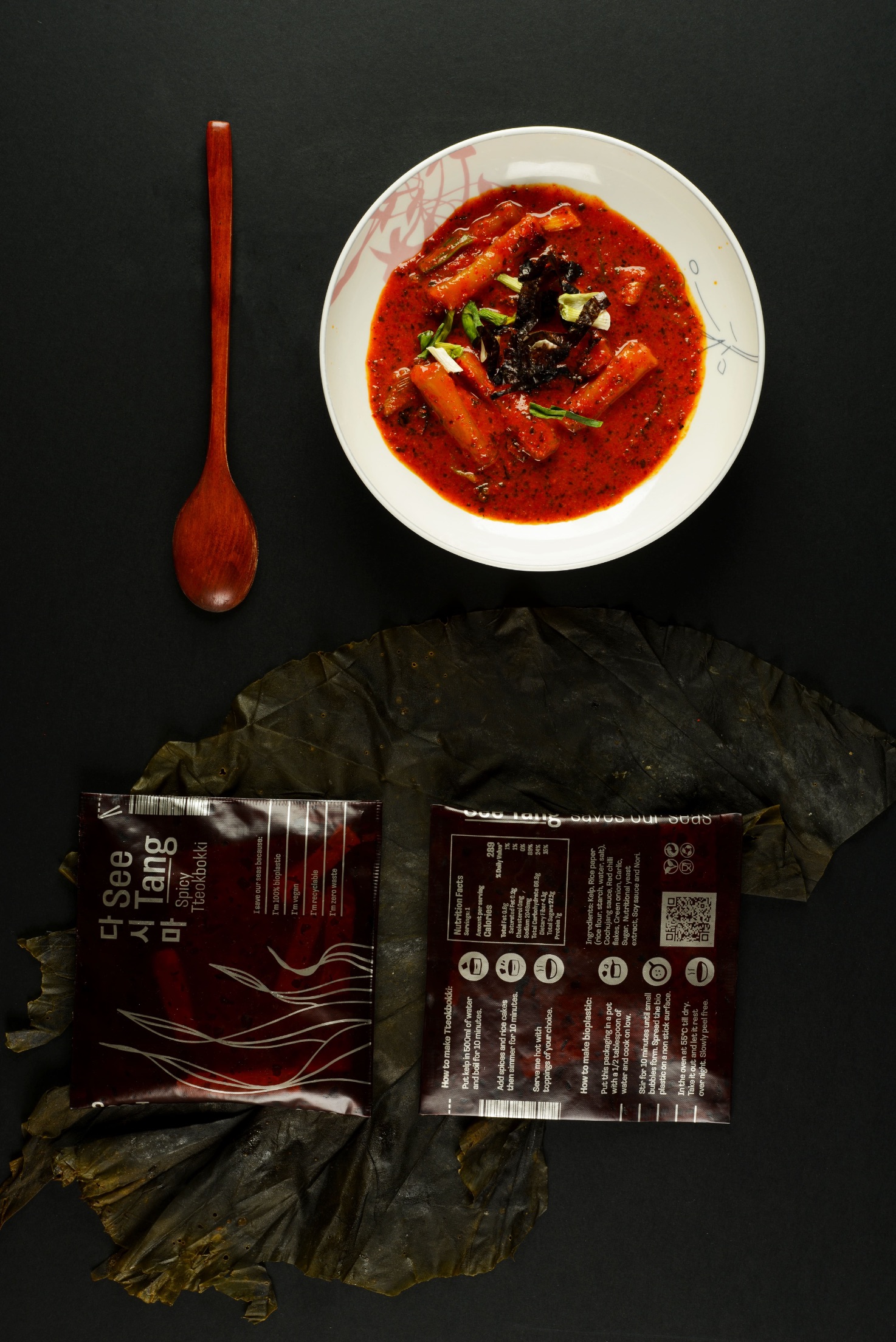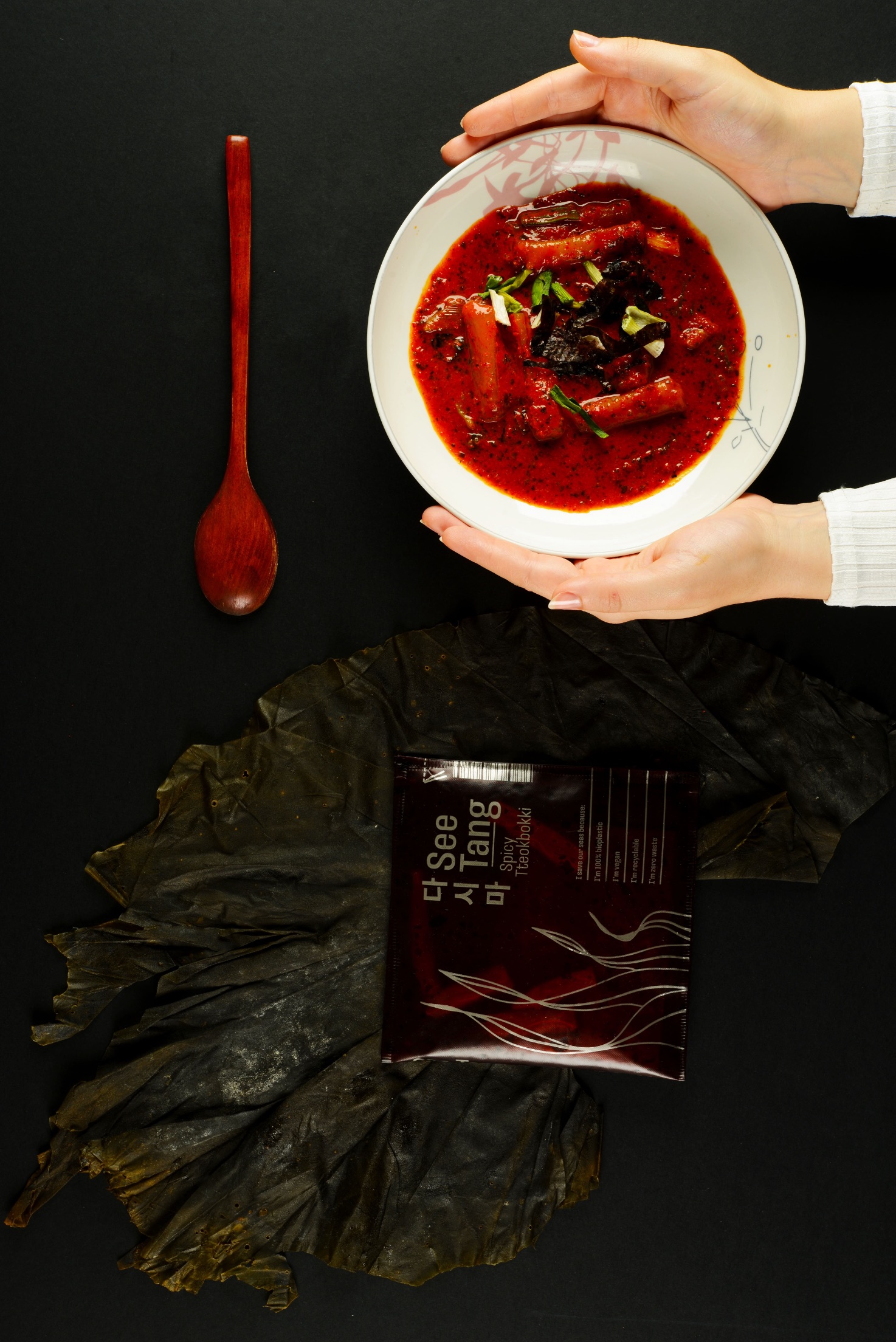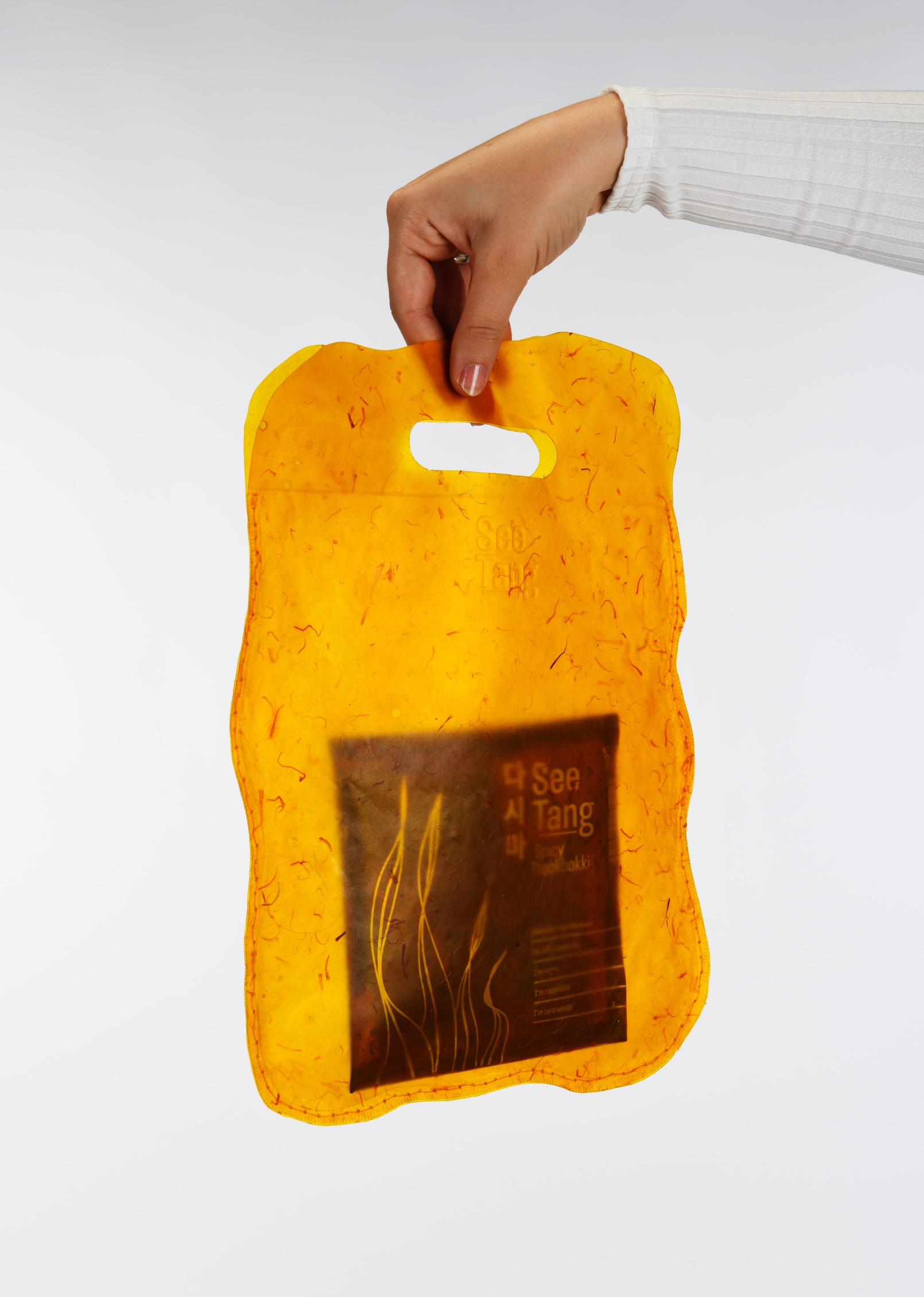 FEEDBACK
Relevance: Solution/idea in relation to brand, product or service
Implementation: Attention, detailing and finishing of final solution
Presentation: Text, visualisation and quality of the presentation